Your Cart Contains: 0 item(s)

Hand Turned Spurtle
Are you stirring your oatmeal with a spoon? A spurtle might be what you are missing. Spurtles are the traditional utensil for stirring porridge in Scotland. We make our spurtles right here on our farm using local hard maple. No porridge pot should be without one!

Note in the picture that we have two handle styles: The 3 spurtles on the left have the grooved handle and the spurtle on the right has a contoured handle.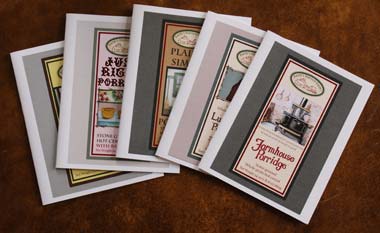 Porridge Note Cards
Our porridge note cards make a great gift to go along with a bag of porridge. They come with an envelope in a clear plastic sleeve. The inside of the cards are blank and a porridge recipe is printed on the back. All the artwork for our porridge labels is by our in house artist Julie Koch!
4.25 x 5.5 inches.